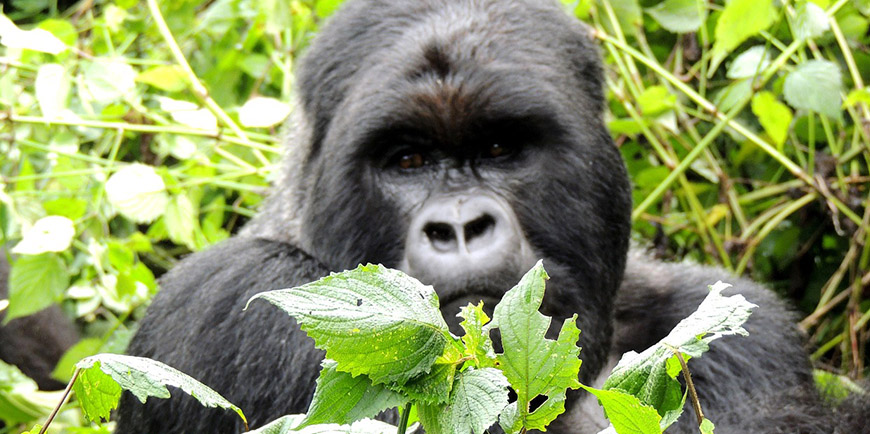 Mgahinga Gorilla National Park is a national park in the far south-west of Uganda near the town of Kisoro.
Location
The park is located in the Virunga Mountains and is contiguous with the Volcanoes National Park in Rwanda and the Virunga National Park in the Democratic Republic of the Congo. Mgahinga is situated about 15 kilometres (9.3 mi), by road, south of the town of Kisoro and approximately 55 kilometres (34 mi), by road, west of Kabale, the largest city in the sub-region. The entire park is located in Bufumbira County, in Kisoro District.
Mgahinga Gorilla National Park is the smallest national park in Uganda (about 33.7 km). It is very important, as it is one of the only two parks in Uganda that offer habitat for the endangered mountain gorilla.
Mgahinga National Park was gazetted in 1991 and is a part of the Virunga Conservation Area, which is 434 km. It adjoins Rwanda's Volcano and the Democratic Republic of Congo's Virunga National Parks. Mgahinga Gorilla National Park experiences two wet rainy seasons; February – May and September- December of each year. The maximum amount of rainfall in a year is 250mm (October) and Minimum is 10mm (July).
Overview
Mgahinga is one of two locations in Uganda in which mountain gorillas can be found; the other being Bwindi Impenetrable National Park. The park has one habituated gorilla group, although this group sometimes crosses the border into Rwanda, which means Mgahinga is not a reliable spot for viewing gorillas.
The park is contiguous with Virunga National Park in the Democratic Republic of the Congo to the west and with Volcanoes National Parkin the Republic of Rwanda to the south. The three parks, together form the 434 square kilometres (168 sq mi) Virunga Conservation Area (VCA). At 33.7 square kilometres (13.0 sq mi), Mgahinga forms only about 8% of the VCA. Each country is responsible for protecting its own portion of the VCA.
The national park also covers three of the eight Virunga volcanoes: Mount Muhabura, Mount Gahinga and Mount Sabyinyo, all of which lie on the Uganda/Rwanda border. Any of these can be climbed in one day from the park headquarters.