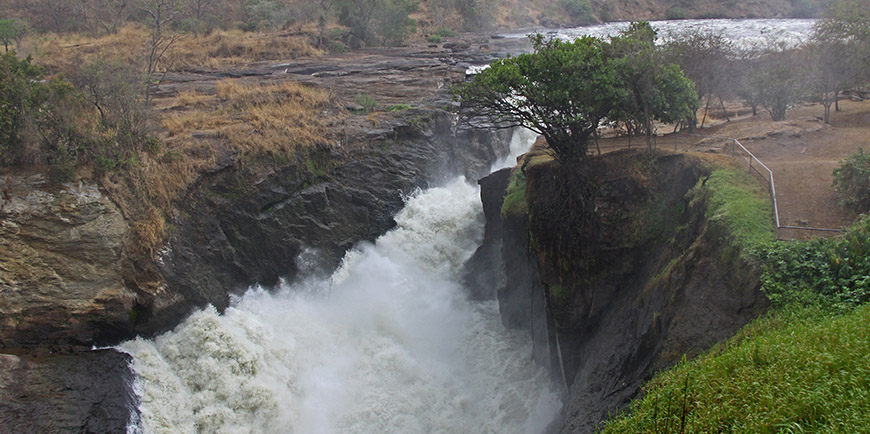 Murchison Falls National Park is a national park in Uganda and managed by the Ugandan Wildlife Authority. The park is in northwestern Uganda, spreading inland from the shore of Lake Albert around the Victoria Nile. Together with the adjacent 748 square kilometres (289 sq mi) Bugungu Wildlife Reserve and the 720 square kilometres (280 sq mi) Karuma Wildlife Reserve, the park forms the Murchison Falls Conservation Area (MFCA).
Location
The park is in Buliisa District in western Uganda and in Nwoya District in northern Uganda. The park is approximately 300 kilometres (190 mi), by road, northwest of Kampala, Uganda's capital city. The coordinates of the park are 02 15N, 31 48E (Latitude:2.2500; Longitude:31.8000).
History
The explorers John Speke and James Grant were the first Europeans to visit the present day MFCA in 1862. It was more thoroughly explored by Samuel and Florence Baker in 1863-4. Baker named the falls Murchison Falls after the geologist Roderick Murchison, then the president of the Royal Geographical Society.
Overview
The park is Uganda's largest national park. It measures approximately 3,840 square kilometres (1,480 sq mi). The park is bisected by the Victoria Nile from east to west for a distance of about 115 kilometres (71 mi). The park is the location of the famous Murchison Falls, where the waters of the Nile River squeeze through a narrow gorge, only 7 metres (23 ft) wide, before plunging 43 metres (141 ft) below. Also in the park, adjacent to the Masindi-Gulu Highway, are the Karuma Falls, the location of the under-construction 600 megawattKaruma Power Station, which will be Uganda's largest power station when it comes online around 2018.
Wildlife
MFCA and the adjacent Bugondo Forest Reserve have 76 species of mammals as well as Uganda's largest population of Nile crocodile. 450 bird species are present ranging from easy variety of waterbirds, including the rare shoe-billed stork to Bugondo's 59 'restricted range' species, dwarf kingfisher, Goliath heron, white-thighed hornbill and great blue turaco are some of the species among them.