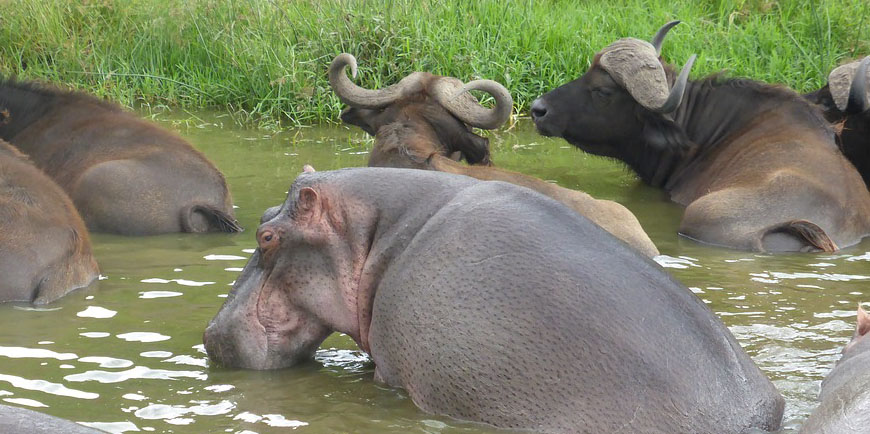 The Queen Elizabeth National Park (QENP) is Uganda's most visited national park.
Location
The national park is located in western Uganda, spanning the districts of Kasese, Kamwenge, Bushenyi, and Rukungiri. Its location is approximately 376 kilometres (234 mi), by road, southwest of Kampala, Uganda's capital and largest city. The town of Kasese is just outside the northeastern edge of the park, while the town of Bushenyi is just outside the park's southeastern boundaries. The coordinates of the park are 00 12S, 30 00E (Latitude:-0.2000; Longitude:30.0000).
Overview
QENP occupies an estimated 1,978 square kilometres (764 sq mi), of which about 17 percent lies in Kasese District, 50 percent in Bushenyi District, and 33 percent in Rukungiri District.[citation needed] The park area extends from Lake George in the northeast to Lake Edward in the southwest, and includes the Kazinga Channel that connects the two lakes.
The park is named after Queen Elizabeth II and was established in 1954. The park was later renamed Ruwenzori before it returned to its royal name. QENP is known for its wildlife, including hippopotami,elephants, African leopards, Congo lions, and chimpanzees. It is home to 95 species of mammal and over 500 species of birds. The area around Ishasha in Rukungiri District is famous for its tree-climbing lions, whose males sport black manes. Poachers killed five or six elephants in the park in 2015, triggering both anger and frustration within the Ugandan conservation community.
The park is also famous for its volcanic features, including volcanic cones and deep craters, many with crater lakes, such as theKatwe craters, from which salt is extracted.
QENP includes the Maramagambo Forest and borders the Kigezi Game Reserve, the Kyambura Game Reserve, and the Kibale National Park in Uganda, and the Virunga National Park in the Democratic Republic of the Congo.
QENP and the Queen Elizabeth Country Park in England are twinned in a project of "cultural exchange, mutual support and has its main emphasis on supporting Conservation through working closely with and empowering local communities".
Services in the park include a telecenter run by Conservation Through Public Health and the Uganda Wildlife Authority (neighboring The Queen's Pavilion), park lodges, game and scenic drives, and boat launches.